Legal innovation, technology and education are three elements at the core of what LawCPD is about; which is why we have supported the UWA Legal Hackathon since it first launched in 2018.
Last year, my role as a roaming mentor allowed me to share my personal experience in legal innovation directly with the students to help them, over three days, shape their projects. This year, I was privileged to be invited to be a judge, which allowed me to be part of the event from another standpoint. This year again, I was impressed by the quality of the projects, as well as the resilience and creative thinking that the students demonstrated.
Legal Hackathons are not just about education – they are also a great avenue to develop innovative solutions that can be implemented in the real world to benefit the legal profession — the success of last year's winner, Lawra, is an excellent example of turning an idea into a real application that will help improve access to justice.
The pitches this year included ideas to support people through family law disputes, deal with pay inequity, manage CLC volunteers effectively and find the best lawyer for their needs. Read on below to learn more about these great ideas!
Family Avenues
Streamlining access to family law solutions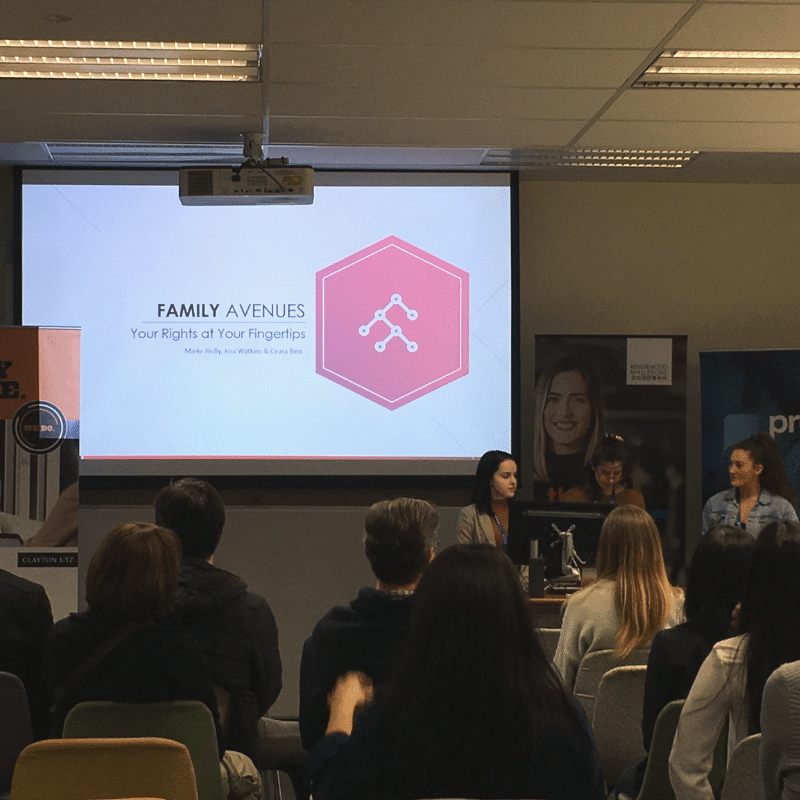 Family Avenues is a web app designed to streamline and simplify access to information that will help people resolve family law problems, such as separations and divorces. The team highlighted how currently 56% of people are turned away when they seek assistance from Legal Aid WA with family law matters. These people aren't eligible for assistance for a range of reasons but still need help. That's where Family Avenues comes in. Users are presented with a simple questionnaire that helps to categorise their matter based on risk and complexity. Based on this initial assessment, the user would then be presented with links to suitable information and resources as well as provide them with a standard "profile form" that they could directly share with legal professionals. By linking the user to legal information and other resources (housing, health and DV) based on their specific family law issues, the app is designed to provide holistic support to both users and legal professionals.
GEORGE
Giving employees opportunities to receive gainful employment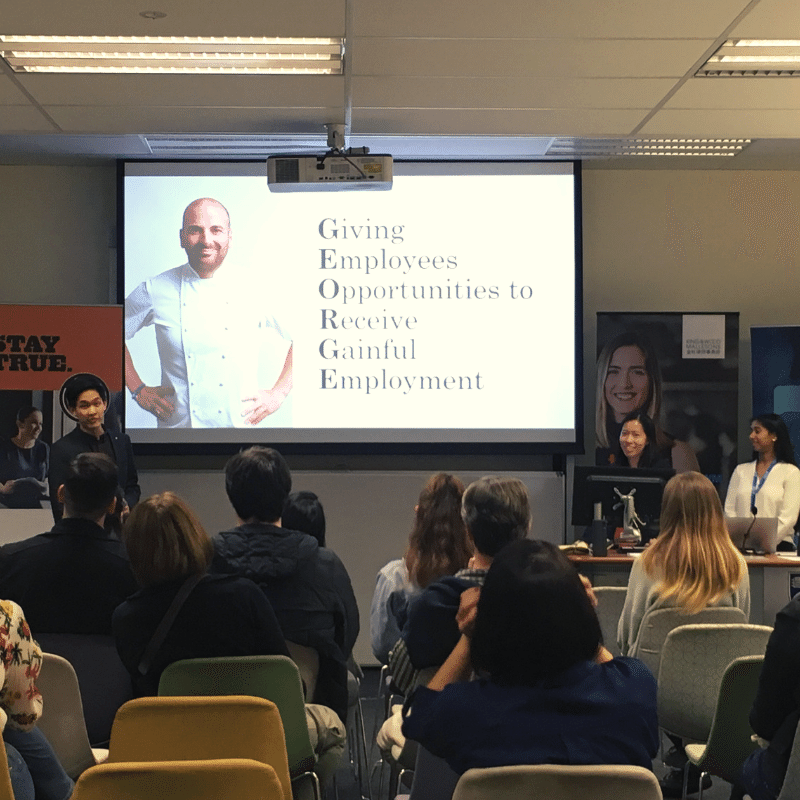 The next team's idea was inspired by George Calombaris, the celebrity chef recently found to have significantly underpaid staff working in his restaurants to the tune of $7.8 million. The idea? An app called GEORGE – Give Employees Opportunities to Receive Gainful Employment. GEORGE is designed to address the challenges facing law students in a hyper-competitive market, where just 4-6 summer clerk roles can elicit over 600 applications. Law graduates and law clerks can quickly and easily work out if they are being paid a fair wage by using the app. They can also access empowering tools within the app if they are underpaid to help them address the imbalance in a positive and constructive manner – such as helpful scripts for conversations with an employer and email templates. The team also noted that once developed, GEORGE could be scaled to support workers in other industries where underpayment is often an issue – including hospitality.
Resolve
Promoting speedy and equitable family court settlements
In 2018, the Family Court of WA saw the highest number of applications filed in the court for any year in the past decade. The time to wait for a trial stands at 97 weeks – driving most parties to settle via mediation or other dispute resolution mechanisms. But even these alternate dispute resolution mechanisms can be time-consuming, challenging and costly. Enter Resolve – an online platform that allows parties to family court proceedings to quantify and negotiate asset value as part of the mediation process. The parties can each enter their financial information and generate reports which can be provided to their lawyers and exchanged at mediation. These reports enable the parties to quickly and easily see which points are agreed upon, and where the more contentious issues lie. The goal of Resolve is to simplify mediations for parties to family court matters – saving time, costs and heartache.
Latch
Tinder for lawyers and clients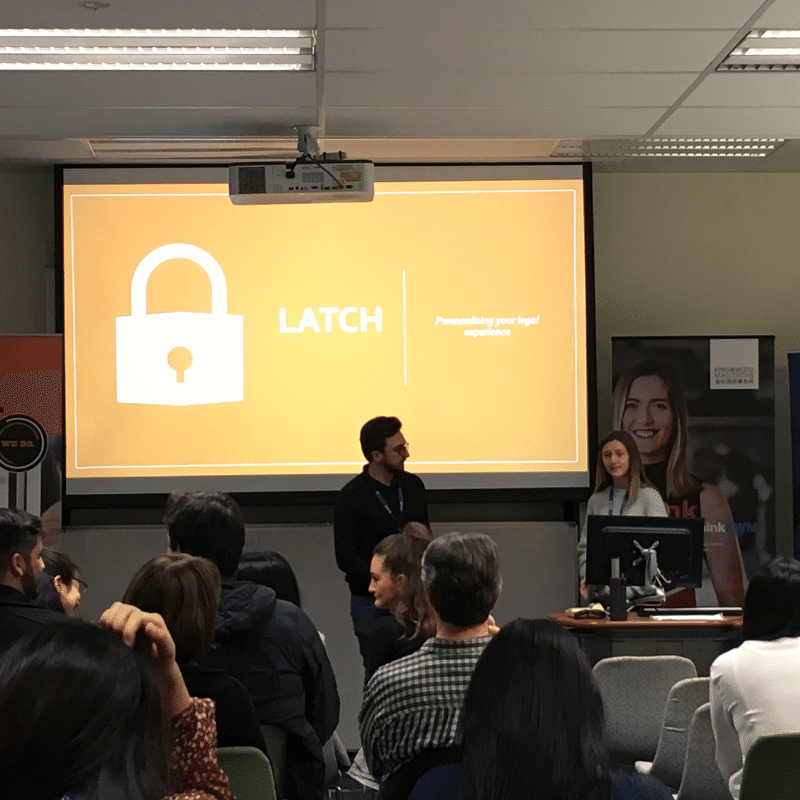 Complaints made by clients against lawyers frequently stem from differences in personality and expectations. This results in bad client experiences, and more negative views of the profession as a whole. That's where Latch comes in – a platform that connects clients with the right lawyer based on competency, personality and connection. Lawyers complete an online profile, upload a video, and then pay a small monthly subscription fee to receive a certain number of client referrals each month. Clients can use the platform free of charge. The target market for Latch is sole practitioners and small to medium sized law practices – who make up over 77% of lawyers in WA. Latch aims to help people with legal issues to choose their lawyer, not just the firm, and to provide lawyers with a steady stream of compatible referrals in their core areas of competency.
Frame
Helping facilitate access to justice
Community legal centres face significant administrative inefficiencies due to high turnover of staff and volunteers, and due to a lack of formal project management structures. Frame is a specialised project management software designed to save CLCs time by efficiently tracking matters, tasks and volunteer capacity. Frame's task tracking system uses 'traffic lights' to make it easy to see at a glance which tasks are incomplete (red), in progress (yellow) or complete (green). CLC managers can quickly see which matters need work done, and allocate volunteers based on capacity and availability. Volunteers can also easily pick up where others left off on a file, avoiding any doubling up of work. Although the team that came up with Frame shaped the idea for CLCs, the software could also easily be commercialised for other law practices or professional services firms, making it a truly scalable idea.
The Winners!
I was privileged to be a part of the judging panel this year along with Nathan Collins (KWM), Sean McNaught (Clayton Utz) and Aaron McDonald (Pragma). The winners were:
Overall Winner – Latch
Runner Up – Family Avenues
Resilience Award – Resolve
The judges were impressed with how all of the teams focused on creating innovative solutions to real-world problems facing consumers and lawyers alike. Latch offered a creative, commercially viable solution that had the potential to benefit both these groups, securing this team's position as overall winners. Family Avenue was a close runner-up, with the judges noting "It's a genuine innovation, a bit like a triaging process where you are cutting down the time for the lawyers and clients." Next year's hackathon will be a truly national event, with teams at universities across Australia simultaneously brainstorming, developing and pitching their ideas. We look forward to being a part of this!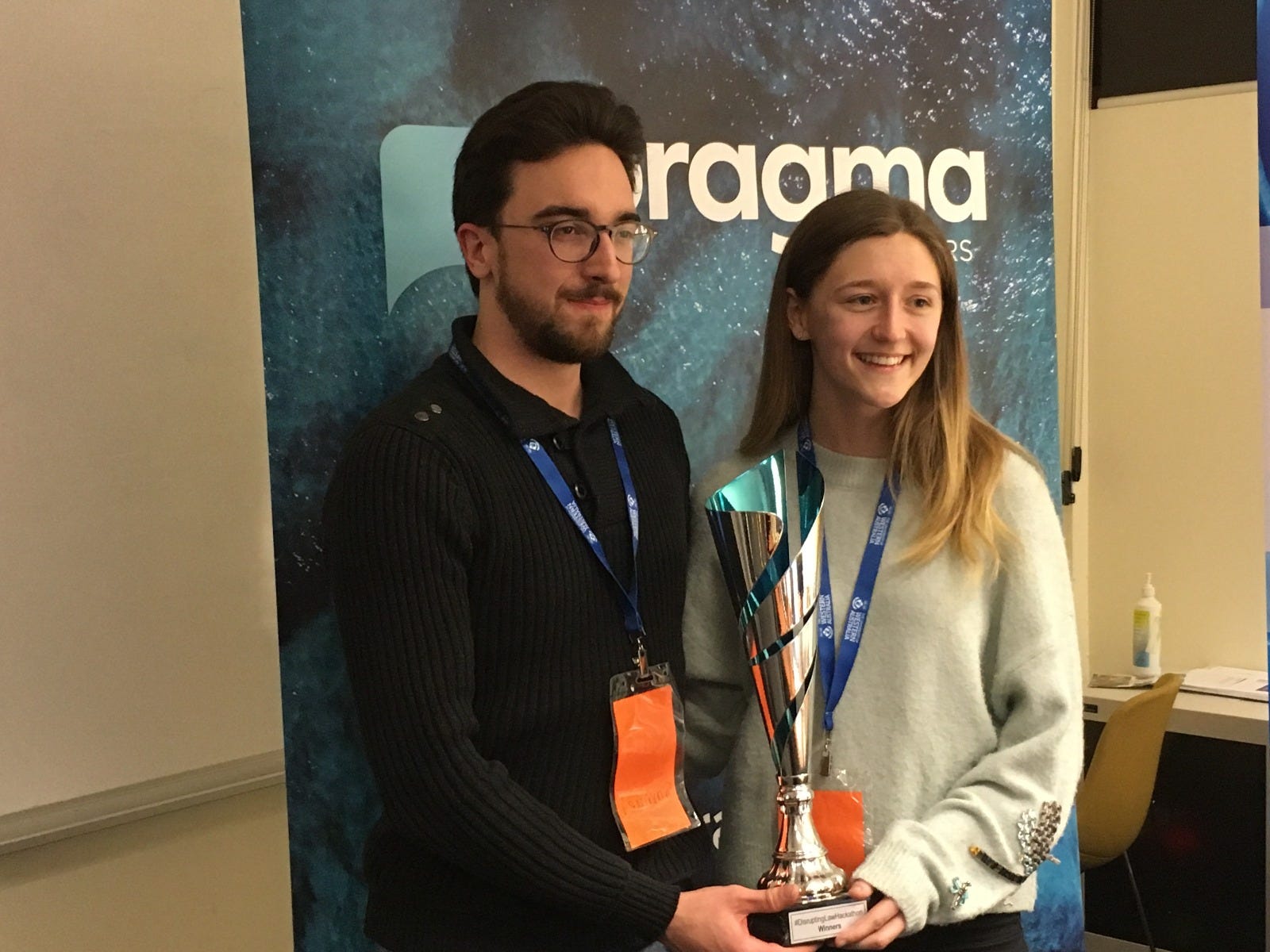 This article was authored by Sarah Mateljan, Co-Founder and Director of LawCPD.com.au
---